Post reblogged from Ask the Tricksters with 4 notes
my mom found out about what i do on the computer (which is mostly Roleplaying on MSPARP & Tumblr)

and she wants to take my computer away

i feel like like you guys accept me and love me and i really don't want that taken away.

does anyone have any way for me to prove to her that

none of you are bad people?
Source: toojohndavetofunction
not sure for how long. I just simply don't have any interest in this blog at the time.
Photo reblogged from f yeah pokemon creepy-pasta with 14,422 notes
Source: coltycolt
Photo reblogged from artistic abominations with 122 notes
I'm not sure if this is intentionally creepy as fuck, so I'll add the parody tag, just in case.
by ~Aura-Chimera
Ditto

—-

   My mother always told me, "Never go out. If you get caught by a trainer, your life will be bad." Most Pokemon are all too happy to get a trainer. They'll test the trainer, and if caught will either gain the glorious life of a gladiator, or a nice retirement in the PC box, or at a ranch, for the Professors to study. The really lucky ones get to go to contest, prettied up every day for the crowds, fed their favorite diet of berries and groomed and fussed over until they're ready to go compete.

   But not Ditto.

   Ditto. We are unique. We're special. we can become any Pokemon, and breed with any other species (excluding most
We all need a break from creepy every now and then. ouo
Defying my belief that this should be kept confidential, I will share this in the sole interest of two individuals. My name is Ruben. I have always been interested in subliminal techniques, regardless of the media or way in which they are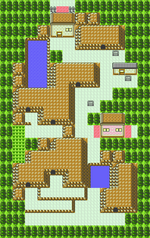 Ruins Of Alph

Added by
CreepyStoryTeller
conveyed. However, I did not go looking for this particular example. No, it found its way to me. It's certainly no coincidence that the move 'Curse' was introduced in Generation II with the release of Pokemon Gold, Silver, and Crystal versions.
Often heard that you shouldn't judge a book by its cover? A sound should not be judged by the way you hear it. There can be so much more, that of which the single sense of hearing can not handle by itself. Sounds are visual as well, despite what some may say. Any piece of music can alter your state of mind and emotions. What else can sounds do? Maybe a certain group of individuals set out to answer just that.
New concepts were realized with version 1.0 of the Lavender Town music released in early Pokemon Green and Red cartridges in Japan. There's no doubt that there was interest from the sound team to create an eerie effect from special inflictions in the music, most notably the high pitched frequencies which could only be heard by those with especially acute hearing. Version 1.1 of the Lavender Town music soon replaced its older counterpart in newer cartridges in order to avoid suspicions. Perhaps enough data had been collected anyway.
The person who posted the previous video was surprised to find that his friend, Anthony, had developed a special way to retrieve the frequencies that were lost when the developed music was redesigned in order to fit within the limitations of the Game Boy. According to him, certain hints were left in the music which encouraged him to develop a way to analyze the sound and insert special tones which mimicked the original intentions of the music.
Although Anthony may have never realized this, the tones which he added constructed unusual images within the sound when combined with the original Pokemon music. These images had been embedded into the music through certain methods of steganography. In Pokemon Gold, Silver, and Crystal, these images were waiting for their key to be unlocked.
Likewise, two sound files from the Pokemon Gold, Silver, and Crystal soundtrack fit together in an interesting way. One you are most likely familiar with; the other you would have only heard if you had listened to your radio while within the Ruins of Alph. These files can never be played concurrently while playing the game. However, they can be while using a computer.
I am not the one who posted the previous video. I will refer to him as Edwin from this point on. When he looked through Anthony's laptop, he copied more than an audio file and just a few pictures. Edwin found an entire algorithm which Anthony had written which was able to reconstruct the lost images within particular Pokemon sound files. Anthony had created the sound file featured in the last video from this algorithm and a generic binaural beat, which he had downloaded from the internet, and many viewers/listeners have recognized. Subsequently after discovering Anthony's creation (lavender.wav) and his homemade algorithm, Edwin himself became obsessed with the oddness of Lavender Town. Despite what he wrote in the previous video, he did not lose interest. Edwin spent his time up until posting the last video testing Anthony's algorithm. He became quite familiar with it and tried it on numerous sounds from the early Pokemon games. Eventually, he tried combining the Ruins of Alph music with the erratic sounds that play on the radio. After running this through Anthony's algorithm, results even more astounding than Anthony's original discovery were found. The outcome is this video.
To my dismay, I am the "sound enthusiast" which Edwin mentioned in the description of the last video. This is why I know so much of this ordeal and have felt the need to write this description as well as post this video. Edwin contacted me through the internet requesting help with the lavender audio file, so I sent him a spectrogram program. He began to send me more and more details about the problems he was facing as time went on, and I grew to know him pretty well. Eventually, he sent me the password to this account along with a terrifying note.
Added by 
WikiaBot
"Even after researching the sounds which caused Anthony's death for so long, I still don't feel better about it. It was my fault he died. If I had just played through my Blue version with him, he wouldn't have become so interested in the Lavender Town stuff, we would have just kept playing.He was my best friend, but I let him down. I wasn't a true friend. It's like I hardly knew him anymore after we went our separate ways. I can't stand living with this burden."
He attached the audio file playing in the video above as well as a password so I could access this account. To say the least, I was baffled at the time. The day after the previous video was posted, Edwin was found dead in his room, astonishingly with no flesh wounds to be found. Had he figured out the exact cause for Anthony's seizure? Was it suicide? Both?
Never did he mention any specific details about this audio file, other than what has already been mentioned in this description. I didn't want to have to get involved further in this incident, but as I have already stated, I feel like it is my obligation. I don't, however, feel the need to describe the occurrences that take place in this video. I will let you decide for your own about that.
Keep in mind, though, that in the game the scientists in the ruins claim that Unown communicate with radio waves. What was constructed in place of the Pokemon Tower in Lavender? The Kanto Radio Tower. I must let you know that this sound file was created with Anthony's algorithm with a binaural beat added in the background. Do the Lavender Town theme and the Ruins of Alph music have something in common? An accident? Something that could… drive someone insane?
I'm what you could call a collector of bootleg Pokémongames. Pokémon Diamond & Jade, Chaos Black, etc. It's amazing the frequency with which you can find them at pawnshops, Goodwill, flea markets, and such.
They're generally fun; even if they are unplayable (which they often are), the mistranslations and poor quality make them unintentionally humorous.
I've been able to find most of the ones that I've played online, but there's one that I haven't seen any mention of. I bought it at a flea market about five years ago.
Here's a picture of the cartridge, in case anyone recognizes it. Unfortunately, when I moved two years ago, I lost the game, so I can't provide you with screencaps. Sorry.
The game started with the familiar Nidorino and Gengar intro of Red and Blue version. However, the "press start" screen had been altered. Red was there, but the Pokémon did not cycle through. It also said "Black Version" under the Pokémon logo.
Upon selecting "New Game", the game started the Professor Oak speech, and it quickly became evident that the game was essentially Pokémon Red Version.
After selecting your starter, if you looked at your Pokémon, you had in addition to Bulbasaur, Charmander, or Squirtle another Pokémon — "GHOST".
The Pokémon was level 1. It had the sprite of the Ghosts that are encountered in Lavender Tower before obtaining the Sliph Scope. It had one attack — "Curse". I know that there is a real move named curse, but the attack did not exist in Generation 1, so it appears it was hacked in.
Defending Pokémon were unable to attack Ghost — it would only say they were too scared to move. When the move "Curse" was used in battle, the screen would cut to black. The cry of the defending Pokémon would be heard, but it was distorted, played at a much lower pitch than normal. The battle screen would then reappear, and the defending Pokémon would be gone. If used in a battle against a trainer, when the Pokéballs representing their Pokemon would appear in the corner, they would have one fewer Pokéball.
The implication was that the Pokémon died.

What's even stranger is that after defeating a trainer and seeing "Red received $200 for winning!", the battle commands would appear again. If you selected "Run", the battle would end as it normally does. You could also select Curse. If you did, upon returning to the overworld, the trainer's sprite would be gone. After leaving and reentering the area, the spot [where] the trainer had been would be replaced with a tombstone like the ones at Lavender Tower.

The move "Curse" was not usable in all instances. It would fail against Ghost Pokémon. It would also fail if it was used against trainers that you would have to face again, such as your Rival or Giovanni. It was usable in your final battle against them, however.
I figured this was the gimmick of the game, allowing you to use the previously uncapturable Ghosts. And because Curse made the game so easy, I essentially used it throughout the whole adventure.
The game changed quite a bit after defeating the Elite Four. After viewing the Hall of Fame, which consisted of Ghost and a couple of very under leveled Pokémon, the screen cut to black. A box appeared with the words "Many years later…" It then cut to Lavender Tower. An old man was standing, looking at tombstones. You then realized this man was your character.
The man moved at only half of your normal walking speed. You no longer had any Pokémon with you, not even Ghost, who up to this point had been impossible to remove from your party through depositing in the PC. The overworld was entirely empty — there were no people at all. There were still the tombstones of the trainers that you used Curse on, however.
You could go pretty much anywhere in the overworld at this point, though your movement was limited by the fact that you had no Pokémon to use HMs. And regardless of where you went, the music of Lavender Town continued on an infinite loop. After wandering for a while, I found that if you go through Diglett's Cave, one of the cuttable bushes that normally blocks the path on the other side is no longer there, allowing you to advance and return to Pallet Town.
Upon entering your house and going to the exact tile where you start the game, the screen would cut to black.
Then a sprite of a Caterpie appeared. It was the replaced by a Weedle, and then a Pidgey. I soon realized, as the Pokémon progressed from Rattata to Blastoise, that these were all of the Pokémon that I had used Curse on.
After the end of my Rival's team, a Youngster appeared, and then a Bug Catcher. These were the trainers I had Cursed.
Throughout the sequence, the Lavender Town music was playing, but it was slowly decreasing in pitch. By the time your Rival appeared on screen, it was little more than a demonic rumble.
Another cut to black. A few moments later, the battle screen suddenly appeared — your trainer sprite was now that of an old man, the same one as the one who teaches you how to catch Pokémon in Viridian City.
Ghost appeared on the other side, along with the words "GHOST wants to fight!".
You couldn't use items, and you had no Pokémon. If you tried to run, you couldn't escape. The only option was "FIGHT".
Using fight would immediately cause you to use Struggle, which didn't affect Ghost but did chip off a bit of your own HP. When it was Ghost's turn to attack, it would simply say "…" Eventually, when your HP reached a critical point, Ghost would finally use Curse.
The screen cut to black a final time.
Regardless of the buttons you pressed, you were permanently stuck in this black screen. At this point, the only thing you could do was turn the Game Boy off. When you played again, "NEW GAME" was the only option — the game had erased the file.
I played through this hacked game many, many times, and every time the game ended with this sequence. Several times I didn't use Ghost at all, though he was impossible to remove from the party. In these cases, it did not show any Pokémon or trainers and simply cut to the climactic "battle with Ghost.
I'm not sure what the motives were behind the creator of this hack. It wasn't widely distributed, so it was presumably not for monetary gain. It was very well done for a bootleg.
It seems he was trying to convey a message; though it seems I am the sole receiver of this message. I'm not entirely sure what it was — the inevitability of death? The pointlessness of it? Perhaps he was simply trying to morbidly inject death and darkness into a children's game. Regardless, this children's game has made me think, and it has made me cry.
It's been while since I've seen a Lavender Town creepypasta. All of them now involve N talking about their past Pokemon or Cheren becoming a murderer. If you ask me, the best creepypastas are the ones involving the classics, Red and Blue versions.
It was September 28th, 1998. The day Pokemon Red was released in North America. After receiving my advertisement tape, I had been going crazy wanting this game. I was in sixth grade at the time. My mom handed me a little box with a picture of Charizard on it. Pokemon Red! I finally had it! I played through the whole game in week. I begged my mom to buy me Blue, and she eventually did. Once I'd beaten both I ignored Pokemon for a while, still watching the show of course. On October 31st, Halloween, a friend of mine, Alicia, stayed the night after trick or treating. My parents had gone to a Halloween party and trusted us to be good while they were gone. I had no siblings. Of course we did stuff wrong! We used the computer, watched TV for two hours (I was only supposed to be watching for half an hour), called boys we liked, and ate all of our Halloween candy. Around 1 am I pulled out my Gameboy, remembering something.
"Hey Alicia, wanna hear a creepy song?"
"Uh, sure! It's Halloween, why don't we get in the mood!" She laughed a little and took the headphones I handed her.
"One sec…" I said as I selected Fly from my Charizard's moveset. Of course I was heading to Lavender town. I had gotten one of the original cartridges with the first Lavender Town music. I didn't know it at the time, I just thought the music was cool and creepy. "Okay," I said, "Plug them in."
Alicia plugged the headphones and sat incredibly still for a second. Her pupils dilated so they were black marbles outlined with a tiny bit of blue. Her hands tightened. She dropped the Gameboy, collapsed, and began foaming at the mouth. My best friend was going to die! All because of me! She shook violently as foam trickled down her face, then she went still, her eyes wide open. I screamed for help before I realized my parents weren't home. Tears flooded down my face. I grabbed her shoulders and shook her. "Wake up Alicia! Wake up!" What had that music done to her? I stared at the Gameboy on the floor. I put the headphones on and it sounded the same as always. I threw the game down again and sprinted to the kitchen. I got a huge glass of water and dumped it all over Alicia. "Wake up! Wake up! I didn't mean it!" I attempted CPR from what our school nurse had told us, but nothing worked. I put her on the bed and hugger her tightly. "I'm so sorry Alicia! I didn't mean to kill you! I don't know what happened!" I was sobbing more loudly than I ever had.
I grabbed the phone off my desk and dialed 9-1-1.
"911 what is your emergency?"
"My friend just had a seizure! She was listening to a creepy song and all the sudden she collapsed! It was my fault, I made her listen to it! My parents aren't home and I don't know what to do! I think she's dead!" I was sobbing loudly into the phone.
"All right, sweetie, calm down. Can you tell me if she has a pulse?" I put the phone down and checked.
"Yeah, kinda! But it's really faint! My name is Marissa Shepperd and my friend is Alicia McKnight!"
"Can you tell me your address? We need to send an ambulance."
I told her my address and the ambulance arrived minutes later. They put Alicia on a cot and loaded her in. "Can I get in the back with her?"
"Yes, get in, we need to go. And get that game she was listening to, I want to take a look at it." I grabbed my Gameboy and got in the ambulance.
They used a defibrillator on Alicia to try to wake her up. "I think she's in a coma," the EMT said. I wanted to kill myself, this was all my fault!
When we got to the hospital they raced Alicia in and we called my parents. They arrived a few minutes later. "I'm sorry! I'm sorry! I didn't mean it! I would never-"
"It's okay, Marissa. We believe you."
An hour later a doctor came into the waiting room holding my Gameboy. "Your friend isn't doing well, I'm afraid. I had a sound specialist listen to this and he said it was unlike anything he's ever heard. He said there's a possibility there are frequencies in here that she heard that caused her to seize."
We went home and the first thing I did was throw my Gameboy in the trash. I never wanted to see it again. We received a call the next morning that Alicia had died. We visited her parents and they told me they would never blame me for what happened. Alicia's services were held in November at the spot where her parents got married.
Of course, my school life went downhill. Kids ridiculed me for killing her and my grades went down because of the intense amount of stress I was under. The school gave me two weeks off after the incident, but they didn't help. The day the trash went out I raced outside and dug the Gameboy out of the garbage. I wiped it off and sat on my bed with it. I began listening to the song. It still sounded the same, but a little… eerier. It had caused my best friend's death. I threw the game down and went to the kitchen. I found the sharpest knife there and started cutting my wrist. Blood flowed down my hand and dripped off the ends of my fingers. It hurt, a lot. I knew I deserved it. I killed my best friend. I kept cutting deeper and deeper until I felt like I was about to pass out. Then I thought, "What am I doing?" I rinsed the cut out, washed the knife, cleaned the blood up off the floor, and wrapped the wound in gauze. I would explain to my mom what happened. I couldn't go back in my room after thinking about Alicia having her seizure. I laid down on the bed in the guest room and cried. I was a mess. I slowly walked to the kitchen and grabbed the phone. I dialed the number of the counselor the school had given me.
"This is Kelly Christiansen, how can I help you?"
"Hi Kelly. This is Marissa."
"Oh, Marissa! How are you doing? There are so many rumors floating around at school… That you tried to kill Alicia. It's horrible."
I burst into tears. "I'm not doing good at all! I was thinking about Alicia and then I listened to the song and then… I cut myself."
"Oh my… Listen, Marissa. I'm coming over there. Stay put, tie yourself to a chair or something."
When Kelly got to my house I was standing at the sink with a glass of water and a painkiller.
"Oh my God! You aren't taking those to get high, are you?"
"Of course not. My wrist just hurts."
"Let me see it." I unwrapped the wound and she cringed. "Marissa! You could have killed yourself!"
"That's what I was trying to do."
"Oh, Marissa." She sat me down on the couch, got me a Dr. Pepper, and said, "Killing yourself isn't going to help, at all." She turned on the TV to Pokemon, my favorite show. We watched it for hours. I watched Ash battle Brock and then I watched him run into Team Rocket. I watched Misty yell at Ash for ruining her bike. It was all so great, it made me feel insanely better. I smiled and looked at Kelly, "Thank you." She smiled back, stood up, and walked out the door. I sat on the couch for a while longer and went to my room. I crawled under the covers and went to sleep. I woke up crying, as I'd had a nightmare about Alicia dying.
I can't really say any more. My school life went downhill incredibly fast, I started drinking and smoking, but never did drugs because I knew how those could fuck you up. Once I got into high school I got a little better. Kelly helped me along and eventually I dug myself out of the pit, but I couldn't get over Alicia. I didn't make any new friends because they all thought I was a murderer. I am now 25 years old and this is the first time I've talked about this to anyone except my parents. I majored in sound science, as I wish to study the Lavender Town conspiracy, and hopefully find out what killed my dearest friend, Alicia McKnight.